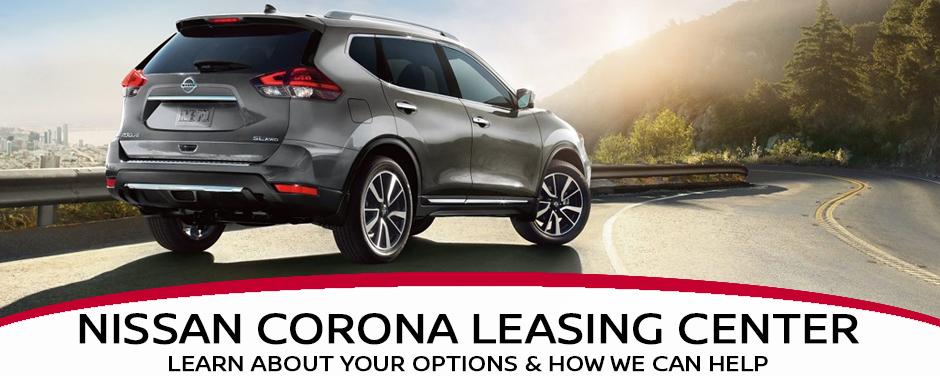 Nissan Lease End Options and Process
At Larry H. Miller Nissan Corona we are devoted to making your end-of-lease process as easy and enjoyable as possible. Below is a provided a timeline guide for what to expect, and steps you should consider taking in the last 6 months of your lease to prepare for the lease-end process. We are also providing you with links to additional research material outlining each lease-end option, so you can make an educated decision on which option will be best for you. Learn more about
buying your leased vehicle
, the
lease return process
,
lease trade-in option
, and the
lease pull ahead program
.
Our Certified Nissan Salesmen are always available to answer any questions you have along the way and help you throughout the entire lease-end process. Give us a call at 
866-617-4982
.
---
Lease End Timeline
How far out are you from your lease end date?

With six months left on your lease, it's time to start thinking about your options.
With countless roads to venture on, trips to the store, and endless commutes, it seems natural to grow attached to a car. Many people create bonds with the car they drive and don't want to give it up at the end of their lease. Some might want to keep up with the most modern technology, and features, and that's okay. Figuring out what to do with your lease can be a hard decision. That's why here at Larry H. Miller Nissan Corona we have multiple options to choose from so you can have the car that's just right for you.
Keep Your Car
Sometimes cars become family, and you want to keep your current car. Great News, this is a Lease End Option with us here at Larry H Miller Nissan Corona. Purchasing your current vehicle at the end of your lease is available. Click the button below to learn more about the lease purchase option.
Learn More About Purchasing Your Lease
Return Your Lease and Walk Away
Looking for a fresh start is always an option, and that maybe doesn't include a New Nissan. This is a great option if your current vehicle doesn't have any leased car equity and is in decent shape with minimal to no excess miles. Click the button below to learn more about thep process for returning your lease.

Leased Car Equity is when your leased vehicle has a market value greater than then Residual Value that was given in your lease terms. If your current vehicle's value is less than it's residual value, you should consider returing your lease over trading it in.
Learn More About Returning Your Lease
Trade-In Your Lease & Purchase or Lease a New Car
Have you decided you want something new and don't want to keep your current lease? When should you consider Trading In your vehicle instead of returning it?
If your leased vehicle has leased car equity - has a market value higher than it's Residual Value.
Its Turn-In situation is not ideal - has excess damage or milage that could accrue high return fees.
Learn More About Trading In Your Lease

Due 4 months from now, your lease will be ending, time to start preparing for the end of the lease process!
Schedule your Pre-Return Vehicle Inspection to avoid any unexpected fees and expenses.

This is also a good time to schedule a Trade-In appraisal if you are thinking about trading in your lease.

Decide if you want to make any repairs.
Schedule an appointment with us.
Satisfy any Lease Liability Fees/Charges.
Schedule Inspection

Your lease is due soon, have you decided what your next step will be?
The last few months have been spent researching your options and choosing your next step, but have your picked out your next vehicle? Did you know that at Larry H Miller Nissan Corona when you stay with us, you may be eligable for loyalty rewards? Schedule an appointment with us today and we will gladly finalize your end of lease decision and help you pick out your next vehicle.
Schedule Appointment
View Current Offers
Lease End Inquiry